Now enjoy life on the lake more than ever....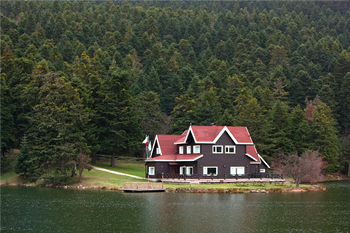 Lakefront living offers the best of both worlds ... gorgeous vistas and water views -- in beautiful communities -- where neighbors are friends, and peace and tranquility reign supreme ... combined with easy access to swimming, fishing, boating, and other fun activities you can dive into right from your lake house shore or dock. Yet a beautiful lake front home can be yours for less than HALF of what you'd invest to own a house on the ocean.
Living in a lake house feels like being on vacation every day of the year. If you're already enjoying lake-front living, Lake House Living™ can help you get the most out of your lake home - from selecting the best boats and fishing gear, to water safety and energy savings, to decorating, refurbishing, and expanding your lake home.
If you don't own a lake home yet but dream someday of living on a lake, Lake House Living can help make your dream become a reality ... with publications, tips, free articles, networking, and other resources to help you find, finance, buy, fix up, and move into your new lake home - sooner than you think.
See you on the lake!
Sincerely,
Bob & Amy Bly
Living on Upper Erskine Lake in Ringwood, NJ